61-7972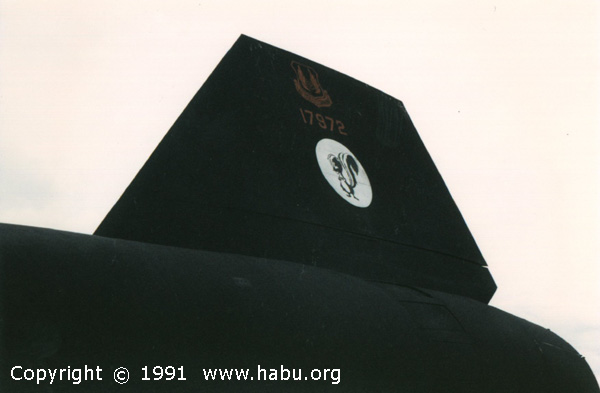 photo by Jim Fitzgerald courtesy of Leland Haynes
The photos above and below were taken at the Farnborough Airshow in 1974, after 972 set the transatlantic speed record of 1:54:56. For more info on this record-breaking trip, and for 32 other terrific photos of the event, visit Leland Haynes' page.

972 getting a tan in the English rain, 5 September 1974 - from the collection of David Allison


Ben Rich poses in front of 972 at Lockheed's Palmdale facility
photo by Denny Lombard, courtesy Lockheed Martin
After setting a transcontinental record of 1:08:17 with pilot Col. Ed Yeilding and RSO Col. J.T. Vida, #972 was donated to the Smithsonian Institution at this post-flight ceremony at Dulles International Airport on Tuesday, March 6, 1990. Click here for a short video of one of 972's final passes prior to touching down.


972 spent about ten years being housed in a temporary hangar while the Udvar-Hazy Museum at Dulles Airport Dulles was being built.


Ed Marshall of the National Air & Space Museum logs the levels on the dehumidifier attached to 972. The humidity is adjusted 2 to 4 times a week to ensure the aircraft is preserved in the best possible condition. Dedication like this from Ed and others like him will allow our grandchildren to marvel at this engineering milestone just like we do today.
continued...

---
---
Copyright © 1998-2011 Habu.Org